So at 2:45 pm you see what he is wearing. OK so beyond all the jokes about kids in diapers and everything, this is apparently what he wants to wear. This morning he had on a cute little baseball shirt, jeans and even his matching red canvas sneakers. True to his nature, he proceeded to pour a bottle of bubbles all over himself. At least he was outside at the time.
I took him inside to change his clothes--he was all soapy. He didn't like the shirt I picked, so he wanted it off. By that time, he had changed his mind about the pants and shoes too. So I didn't try again. He just ran around in a diaper for a while.
I was cleaning out his closet and he found a bag of T-shirts. He was very excited to dig out a Wiggles shirt and a Spiderman shirt. Now the only delimma was which one to wear. He changed shirts about 4 times before he decided to keep the Spiderman T on. He was, however, a little disappointed when he wanted me to wear the Wiggles shirt, and I explained why mommy can't wear a 2T. He he! So are you convinced that he really is crazy?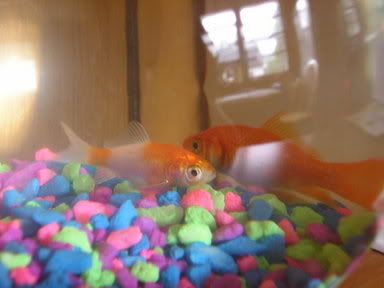 Oh yeah, these are the newest additions to our family. They have survived one day so far. The big orange one is Goliath, and the little spotted one is David. Hmmm...we didn't discuss the fact that in the end David killed Goliath.