The last week or so has been pure craziness around here. So much has been going on. Big J has been substitute teaching quite a bit, and I have had volunteer training a couple of nights each week. Add in story time, church meetings, Bible study, having a leaky tire fixed, and helping to watch kids for the leaders' meeting this week, and you get our crazy schedule. Oh yeah, we're still trying to make it to the fair, but the pumpkin farm might not happen. Whew!!
This week J was a little grumpy at story time. He did have fun hugging his new friend Ethan over and over and over... One little girl he tried to hugh kept running away screaming.
Here are just a couple of photos of J's favorite part of our trips to the library.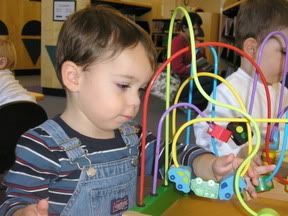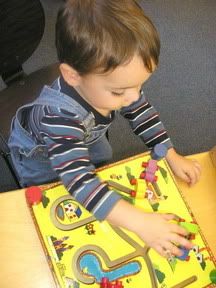 Hopefully we can get things calmed down here soon, and I'll be able to post more.